Dan Mei Knowledge Library
Time:
Aug 8th, 2019
Software:
Figma
Photoshop
Illustrator
Dan Mei, known as boys' love in English, is a genre of fictional fantasy media that features the same gender, homoerotic romantic relationship. It includes manga, novels, anime, TV series and so on.
With the development of the Dan Mei genre in China, more and more young female millennials have gotten together to build the Dan Mei subculture.
Like other subcultures, Dan Mei subculture has problems:
1. Dan Mei fans can't tell the difference between reality and romantic story, and they know little about LGBTQ members' situation in China.
2. Dan Mei fans trying to convince LGBTQ members in China to publicly come out of the closet without knowing the LGBTQ members in real life.
3. Dan Mei fans lie about being LGBTQ members in order to attract attention on the internet.
4. Some Dan Mei fans are disrespectful LGBTQ members.
...
All these problems create a misunderstanding between LGBTQ communities and the Dan Mei subculture. And some of the above problems are the result of lacking the knowledge of LGBTQ. But
I saw the potential of improving the subculture by educating Dan Mei fans. Besides they can become a strong power for helping LGBTQ members fighting for their equal rights in China.
Therefore, I create a website called Dan Mei Knowledge Library.
The mission for this online library is providing people space where they could have access to different pieces of knowledge of Dan Mei, LGBTQ, and models for educating Dan Mei fans. Thus this online library consists of 2 parts, Guidelines and Knowledge database.
The knowledge database will be an ongoing documentation of the Dan Mei subculture.
And the Guidelines will be the documentation for ongoing instructional models that people could use to educate Dan Mei fans. The guidelines may range from installations, posters, publications, pop-up stores, etc.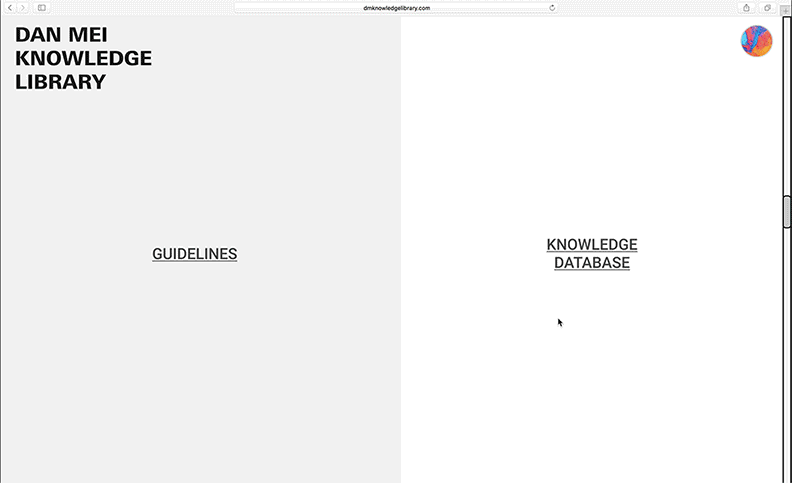 Thank you!
---